MBB AFFILIATES, LLC RECOGNIZED AS A TOP 100 MBE®
"THE CAPITAL REGION MSDC AWARDS MBB AFFILIATES, LLC AS ONE OF THE BEST IN THE REGION!
Washington, D.C. – The Capital Region Minority Supplier Development Council (CRMSDC) announced that MBB Affiliates, LLC (MBB) and its Principal, Ashley Atwater, were named as a 2019 Top 100 MBE® winner.
This prestigious award recognizes owners of minority business enterprises in Maryland, Virginia, and the District of Columbia who have demonstrated exceptional entrepreneurial accomplishments, a high level of professionalism, and have made substantial contributions to their community.
Ashley Atwater was driven to create a business that would provide an opportunity for other women and people of color in an industry she loves. Ashley founded MBB Affiliates in 2013, a best-in-class property management and facility management firm specializing in commercial and residential properties.
MBB Affiliates has expanded its footprint by building relationships in the public and private sectors and offering superior management, operational, engineering, and accounting services to clients such as the District of Columbia, the Federal Government, real estate developers, and private owners. The current portfolio consists of office, retail, multifamily, and educational campuses throughout the region, including the historic Dorothy Height Building on Pennsylvania Avenue and the recently renovated and famed Duke Ellington School of the Arts.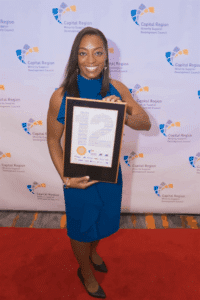 "I am honored and excited to be a part of such an outstanding group of awardees. I started this company to provide an opportunity for the many talented and gifted people who look like me in an industry that has not always embraced us; and to create a work environment where we can grow, learn and realize our potential. I am so appreciative to our entire staff, clients, and partners for their hard work and commitment to MBB's success and to my friends and family for their love and support along the way."
​— Ashley Atwater, MBB Principal
The Top 100 MBE Awards® were presented at the CRMSDC's 38th Annual Leaders and Legends Awards Ceremony, on Thursday, October 3, 2019 at the MGM National Harbor. The ceremony, established in 2007, welcomed nearly 1,000 attendees in celebration of the creativity and innovation of regional MBEs who are role models and inspire the entire community.
To review the full list of MBE® awardees, please visit: CRMSDC.
ABOUT MBB AFFILIATES, LLC
MBB Affiliates, LLC is a privately held woman and minority-owned, best-in-class property and facility management firm with experience servicing office, retail, light industrial, multifamily properties, and educational campuses since 2013.
With WBE, MBE, CBE, WOSB, and 8(a) certifications, a management team with award-winning BOMA expertise, and a commitment to Sustainable Management with LEED Accredited Professionals, MBB is able to provide unparalleled service to both commercial and residential properties through its divisions, MBB Commercial and MBB Residential.
ABOUT CAPITAL REGION MINORITY SUPPLIER DEVELOPMENT COUNCIL (CRMSDC)
CRMSDC, established in 1972, is one of 23 regional affiliates of the National Minority Supplier Development Council, the only nationally recognized MBE certifying authority.
CRMSDC also operates two programs funded by the U.S. Department of Commerce's Minority Business Development Agency (MBDA) grants: (1) The MBDA Business Center, Washington D.C., helps minority-owned firms create jobs, compete in the global economy and grow their businesses, and (2) The Federal Procurement Center which is the nation's only federally-funded program solely dedicated to assisting MBEs in obtaining Federal contracts. Together these organizations form the CRMSDC MBE Business Consortium, the largest provider of MBE support services in the region.